The following video explains the DMVPN Phase 1 fundamentals and spoke router configuration guidelines (here's why I started this series of posts):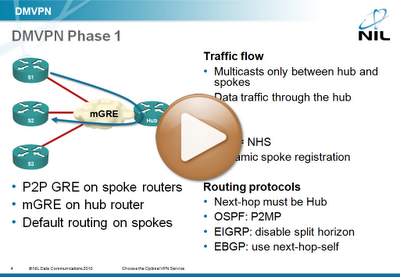 Let's summarize:
Phase 1 DMVPN uses point-to-point GRE tunnel on spoke routers and multipoint GRE tunnel on the hub router.
All the DMVPN traffic (including the traffic between the spokes) flows through the hub router.
On the spoke routers, the hub router must be the IP next-hop for all destinations reachable through the DMVPN subnet (including other spokes).
Multicast packets (including routing protocol hello packets and routing updates) are exchanged only between the hub and the spoke routers.
More information
The Phase 1 DMVPN section of the DMVPN: from Basics to Scalable Networks webinar (register here or buy a recording) also includes the following topics:
Basic hub router configuration;
Explanation of GRE tunnel key concept and its potential performance implications;
NHRP configuration of the hub and spoke routers;
Non-unique NHRP registrations;
Multicast over mGRE principles;
DMVPN redundancy;
IPSec configuration with shared keys and certificates;
Monitoring and troubleshooting guidelines.