Yesterday I described how the lack of LACP support in VMware's vSwitch and vDS can limit the load balancing options offered by the upstream switches. The situation gets totally out-of-hand when you connect an ESX server with two uplinks to two (or more) switches that are part of a Multi-chassis Link Aggregation (MLAG) cluster.
Let's expand the small network described in the previous post a bit, adding a second ESX server and another switch. Both ESX servers are connected to both switches (resulting in a fully redundant design) and the switches have been configured as a MLAG cluster. Link aggregation is not used between the physical switches and ESX servers due to lack of LACP support in ESX.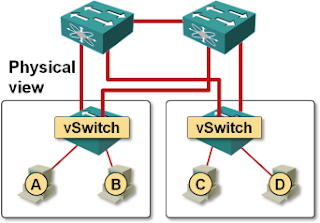 The physical switches are unaware of the physical connectivity the ESX servers have. Assuming that vSwitches use per-VM load balancing and each VM is pinned to one of the uplinks, source MAC address learning in the physical switches produces the following logical topology: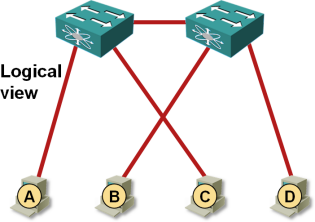 Each VM appears to be single-homed to one of the switches. The traffic between VM A and VM C is thus forwarded locally by the left-hand switch; the traffic between VM A and VM D has to traverse the inter-switch link because neither switch knows VM D can also be reached by a shorter path1.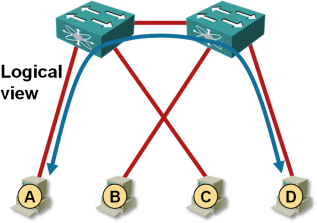 When you use servers connected to a pair of edge switches2 and use all uplinks for VM traffic, you risk overloading the inter-switch link as the traffic between adjacent ESX servers is needlessly sent across that link. There are at least two solutions to this challenge:
Use Multi-chassis Link Aggregation (MLAG) and combine server uplinks into a link aggregation group. Don't even think about using static port channels, LACP is your only protection against wiring mistakes3. When using this approach, it's probably best to configure IP-hash-based load balancing in vSwitch.
Use active/standby failover policy and dedicate each server uplink to a subset of traffic. For example, use the left-hand uplink for VM and vMotion traffic, and the right-hand uplink for storage (iSCSI/NFS) traffic.
More information
Interaction of vSwitch with link aggregation is just one of many LAG-related topics covered in the Data Center 3.0 for Networking Engineers webinar.
For even more details, watch the vSphere 6 Networking Deep Dive and Designing Private Cloud Infrastructure webinars.
Revision History
2022-05-08

Removed Cisco Nexus 1000v references, and added active/standby scenario
---
And even if the elf ToR switch would send the traffic toward VM D on the direct link, ESXi would drop it due to its built-in "we don't need no STP" loop prevention logic. ↩︎

And who doesn't – most of us can't afford to lose access to dozens of servers after a switch failure. ↩︎

And yes, I know VMware charges you extra (enterprise license) for the privilege of having a working LACP implementation on ESXi hosts. ↩︎