… updated on Saturday, December 26, 2020 09:06 UTC
Numerous sources on the Internet claim that IS-IS runs on top of OSI's Connectionless Network Protocol (CLNP). This is not the case; although IS-IS and CLNP share the same layer-2 Service Access Point (SAP), OSI provides an additional field (Network Layer Protocol Identifier; NLPID) in the first byte of the layer-3 header.
Contrary to the IP world where the identification of layer-3 protocol is based on Ethertype or PPP protocol ID, the identification of a layer-3 OSI protocol is performed based on layer-2 Service Access Point (DSAP = 0xFE) and the first byte of the layer-3 header, which has the following values:
0x81

CLNP (Connectionless Network Protocol)

0x82

ES-IS: End system (host) to Intermediate System (router) protocol - used by CLNP hosts to announce themselves to the routers

0x83

IS-IS: Intermediate System to Intermediate System protocol – used by routers running IS-IS to advertise themselves, establish adjacency, and exchange routing information.
IS-IS is therefore a separate network-layer protocol and does not rely on CLNP for datagram transport while IP routing protocols encapsulate their packets into IP or UDP datagrams.
The relationship between various OSI protocols and their comparison with the IP protocol stack, where the layer-3 protocol demultiplexing relies exclusively on the values in the layer-2 header, is shown in the following diagram: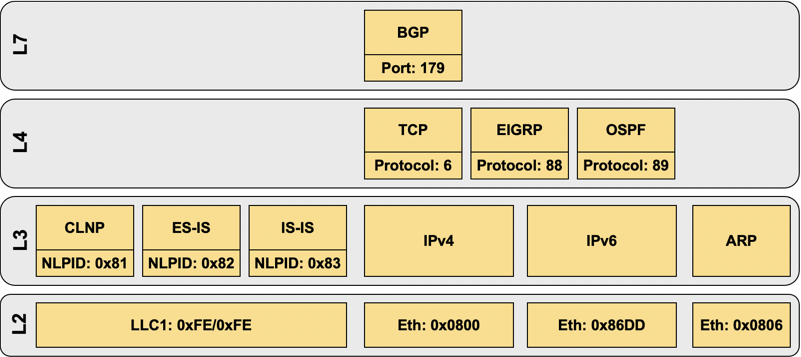 Notes
You might be confused by the mixture of CLNS and CLNP acronyms. From the OSI perspective, a protocol (CLNP) is providing a service (CLNS) to upper layers. When a router is configured with clns routing it forwards CLNP datagrams – the IOS configuration syntax is potentially misleading.