In my home office, I'm using DSL access to the Internet with ISDN backup to another ISP, as shown on the next figure: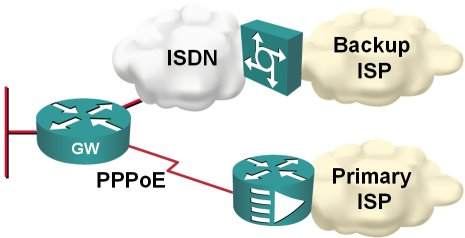 Obviously, I would like the ISDN backup to kick in whenever the primary connection goes down; two static default routes and reliable static routing on the primary default seem like a perfect solution.
However, as I'm using PPP encapsulation on the primary connection, there's another option: PPP can insert a dynamic default route whenever IPCP negotiations succeed (and remove it when the line protocol goes down). To configure this feature (introduced in IOS releases 12.3(11)T and 12.4), use the ppp ipcp route default interface configuration command on the primary dialer interface.
GW#show ip route | begin Gateway
Gateway of last resort is 10.0.0.33 to network 0.0.0.0
 
     10.0.0.0/32 is subnetted, 2 subnets
C 10.0.0.34 is directly connected, Serial1/0
C 10.0.0.33 is directly connected, Serial1/0
     192.168.0.0/28 is subnetted, 1 subnets
C 192.168.0.0 is directly connected, FastEthernet0/0
S* 0.0.0.0/0 [1/0] via 10.0.0.33

Contrary to the DHCP-installed default route, the PPP-installed default route has administrative distance 1 (and is thus impossible to override)