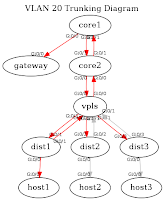 It's always great to see students enrolled in Building Network Automation Solutions online course using ideas from my sample playbooks to implement a wonderful solution that solves a real-life problem.
James McCutcheon did exactly that: he took my LLDP-to-Graph playbook and used it to graph VLANs stretching across multiple switches (and provided a good description of his solution).
We migrated our blog a few days ago, and the commenting functionality is not there yet. In the meantime please find our content on LinkedIn and comment there.