Whenever I write about the crazy things vendors are trying to sell us, and the kludges we have to live with, I keep wondering, "Is it just me, or is the whole industry really as ridiculous as it seems?" It's so nice to see someone else coming to the same conclusions, like Mark Burgess (the author of CFEngine and the Promise Theory) did in a lengthy essay on whether SDN makes sense.
Long story short: there's no need for layer-2 in the data center beyond the virtual link between a VM (or container) and the virtual switch. We should stop emulating the thick yellow cable.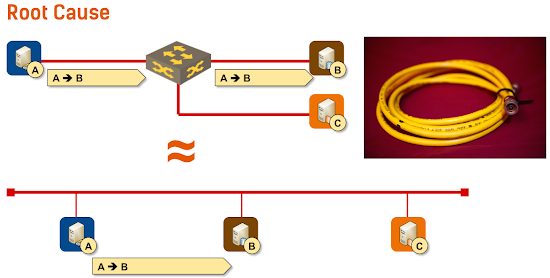 The diagram is from the IPv6 Microsegmentation Done Right presentation that I'll present @ Troopers 2015. There are still a few seats left, so make sure you register ASAP. You can also attend the IPv6 Micro-segmentation webinar, but it would be so much better to meet you in person.
Instead of desperately trying to emulate 40-year-old technology, we should strive to make data center networks layer-3-only networks and use DNS for service location.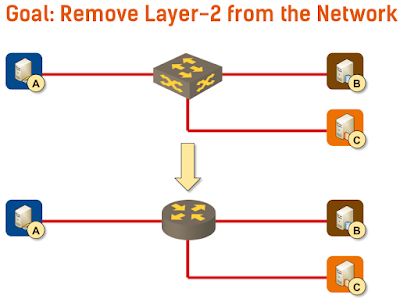 Interested? Go and read what Mark Burgess has to say on the topic.