One of my readers sent me this question:
I have a data center with huge L2 domains. I would like to move routing down to the top of the rack, however I'm stuck with a load-balancing question: how do load-balancers work if you have routed network and pool members that are multiple hops away? How is that possible to use with Direct Return?
There are multiple ways to make load balancers work across multiple subnets:
Make sure

the load balancer is

in the forwarding path

from the server to the client

, so the return traffic hits

the load balancer, which translates the source (server) IP address.
You usually need multiple forwarding domains (VLANs or VRFs) to make this work.
Use

source NAT

, where the load balancer changes the client's IP address to load balancer's IP address. As the

return IP address belongs to the load balancer

,

the

return (server-to-client) traffic goes through the load balancer

even

when it's not in the forwarding path.

With Direct Server Return (DSR)

u

se IP-over-IP tunneling (or whatever tunneling mechanism is supported by both load balancer and the server) to get the

client

packet

s

from the load balancer to the desired server.

The return traffic is

sent from the server

straight to the client anyway.
Haven't heard about Direct Server Return? Don't worry, you'll find all you need to know in this short video: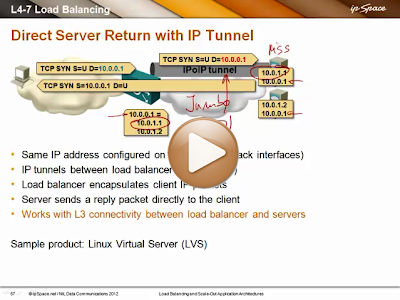 More information