I thought Edge Virtual Bridging (EVB) would be the technology transforming the kludgy vendor-specific VM-aware networking solutions into a properly designed architecture, but the launch of L2-over-IP solutions for VMware and Xen hypervisors is making EVB obsolete before it ever made it through the IEEE doors.
IEEE WG is still working on the draft; the major hypervisor vendors have already moved on – VMware has VXLAN, Microsoft has NVGRE and Xen/KVM have GRE+OpenFlow with Open vSwitch. As I predicted, the hypervisor vendors woke up, realized VLANs really don't scale (there were a few old-school idiots yelling that message from L3 ivory towers for the last few years, but nobody listened), and focused on implementing larger-scale virtualized networks with MAC-over-IP encapsulation.
The truly sad part is that EVB isn't a bad technology. It's a perfect solution if you want to use VLANs to create virtual networks, and its S-component nicely solved the problem of virtual server-to-switch links that we need in some environments.
And then there's IBM: Its DVS 5000V is the first virtual switch supporting EVB/VEPA, as does its Virtual Fabric 10G switch module. It's nice to see someone using standard technologies instead of proprietary solutions like Cisco's VN-Tag or HP's Virtual Connect (although IBM's documentation indicates they might have implemented a 2 year old draft). According to the same documentation, the current EVB implementation in Virtual Fabric 10G switch module doesn't support CDCP (a standard way of creating multiple NICs over the same uplink). A year ago I would have been excited; today I can't help being reminded of ATM support on IBM Front End Processors.
Anyhow, here's what I had to say about EVB when I was still hoping it would become a viable technology (taken from the Introduction to Virtualized Networking webinar). Enjoy!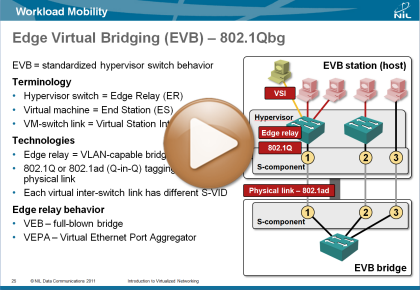 Need more information?
I was describing EVB/VEPA in the Introduction to Virtualized Networking and VMware Networking Deep Dive webinars. You get access to both with the yearly subscription.