When the current variant of IPv6 was selected 15 years ago, seamless integration with IPv4 was a big deal, resulting in NAT-PT architecture. NAT-PT tried to solve too many problems and (as I pointed out in my IPv6 Deployment workshop), while the 6to4 NAT is manageable, the 4to6 NAT is horrific (NAT64 and DNS64 are more reasonable; more about them in an upcoming post).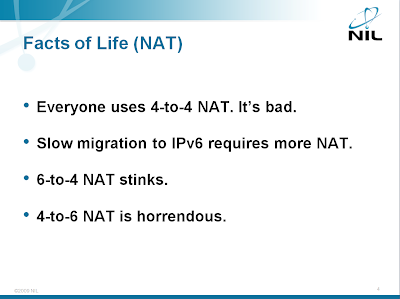 NAT between IPv4 and IPv6 hosts is just one of the topics covered in the Enterprise IPv6 Deployment workshop. You can attend an online version of the workshop or we can organize a dedicated event for your team.
To make matters worse, the NAT-PT implemented in Cisco IOS is totally broken due to removal of fast switching support in IOS release 12.4(20)T and numerous other releases. As I wrote a year and a half ago, removing fast switching will bite us eventually … and so it does when you try to use NAT-PT.
NAT-PT was never working in CEF switching path; CEF switching punted packets that had to be translated to fast switching. With fast switching gone, the punted packets land in a digital black hole. To make NAT-PT work, you have to disable IPv4 and IPv6 CEF globally. Do I need to spell out how that affects the router's performance?