Every time I'm explaining the intricacies of new technologies to networking engineers, I try to use analogies with older well-known technologies, trying to make it simpler to grasp the architectural constraints of the shiny new stuff.
Unfortunately, most engineers younger than ~35 years have no idea what I'm talking about – all they know are Ethernet, IP and MPLS.
Just to give you an example – here's a slide from my SDN workshop. Anyone familiar with the technologies I listed on the slide immediately grasps the limitations of various SDN approaches.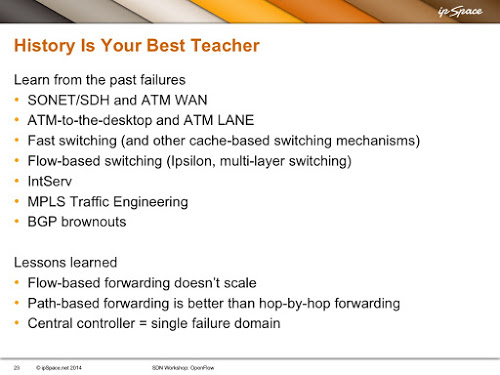 How many people still remember those technologies? They are dead for a good reason, but unless we know what the reason is, we keep reinventing them after a decade or two.
Want a few more examples? I was trying to explain the principles of SAN and differences between FC and FCoE to a networking engineer a while ago. I started with B2B credits in FC and told him Fibre Channel uses exactly the same approach as hop-by-hop windows we had in X.25, with the same results… resulting in confused blank stare. Further down the conversation I said FCoE uses lossless Ethernet, which uses PAUSE frames, which are exactly the same thing as Ctrl-S and Ctrl-Q on an async link. Same result.
In short, the lack of historical knowledge I see in younger engineers is depressing, and it's obvious when looking at many SDN ideas or even products that "Those who fail to learn from history are doomed to repeat it", but I simply don't know how to fix it – it's so hard to motivate young people to learn about seemingly irrelevant stuff. Any ideas are highly appreciated.
However, there is something you can do – always ask why do we do things the way we do them and understanding the fundamental principles instead of focusing on the intricacies of the configuration commands. Study old technologies and try to grasp why we no longer use them, because RFC 1925 section 2.11 remains as relevant as ever.