The discussion in the comments to my LAG versus ECMP post took a totally unexpected turn when someone mentioned BFD failure detection over port channels (link aggregation groups – LAGs).
What's the big deal?
What is BFD
Bidirectional Forwarding Detection (BFD) is a lightweight protocol that "provides low-overhead, short-duration detection of failures in the path between adjacent forwarding engines" (straight from RFC 5880).
Networking engineers love BFD for several reasons:
It's simpler and less CPU-intensive than routing protocol adjacency messages;
It can be implemented in smart linecards, further reducing the control-plane CPU load, and making it possible to detect forwarding failures in milliseconds even on boxes with hundreds of interfaces (try doing that with OSPF);
It detects byzantine failures between two forwarding engines that cannot be reliably detected at physical and data-link layers.
BFD uses the principle of shared fate to do its job – it tests the actual transmission path using the same protocol (IP) as the forwarded traffic – and thus reliably detects a forwarding failure in a simple transmission path, regardless of the number of components in the path.

BFD and LAG
LAG appears as a single layer-2 forwarding path to layer-3 forwarding engine. BFD messages can take any one of the links in the LAG (based on the LAG load balancing algorithm), breaking the shared fate assumption – a forwarded packet traversing another LAG member link might encounter a partially failed component, and it's impossible for BFD to detect that.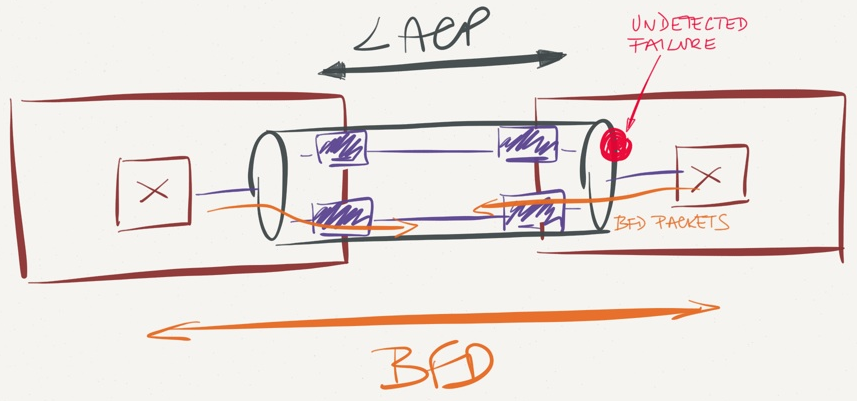 The only solution to this problem is to run BFD across every LAG member link – the BFD code has to become LAG-aware and test end-to-end connectivity across every member link independently (see RFC 7130 for more details). Even more, LACP and BFD have to work in parallel – a member is added to a LAG only when both LACP and BFD agree it's OK to do so.

More information
I discussed the role of BFD in fast convergence in the Advanced Routing Protocol Topics part of How Networks Really Work webinar.