back to overview
Continuing from the previous Tools That I Use post, here's what I'm using to generate the hand drawings in blog posts and case studies.
Wacom Cintiq 12WX with SketchBook Pro is indispensable for high-resolution drawings I'm using in case studies. I've tried to import router symbols in SketchBook Pro and make them look like they would be hand-drawn, but my illustrating skills are almost non-existent.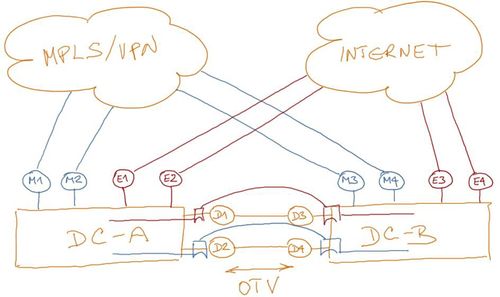 Typical SketchBook Pro drawing
SketchBook Pro is an overkill for low-resolution blog post drawings … and it forces me to sit down with my computer, so I prefer to draw all other diagrams on an iPad. My fingers are way too clumsy and fat (supposedly rock climbing really helps to make them oversized), so I'm relying on a Bamboo stylus to get some reasonable precision.
Paper 53 is my favorite drawing program, particularly due to its interesting brush-resembling strokes.
Typical Paper 53 drawing
Penultimate is not bad either, but is pretty limited in its drawing options. SketchBook for iPad is nice when I need to zoom in (to write small text) or work with multiple layers, but I'd need a newer iPad to get the most out of it.
The best I could get out of Penultimate
Getting the drawings from the iPad to the laptop where I do all my writing has been a royal pain (the best I could do was sending them via email). Fortunately at least SketchBook Pro and Penultimate started supporting saving individual PNGs directly to Dropbox … where they miraculously appear on my laptop ready to be published in a blog post.