When I started developing the virtual firewalls webinar, it looked like a simple project: define what a virtual firewall is and explain the architectural options (see the diagram).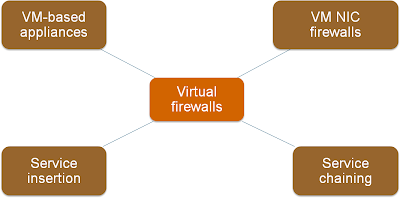 Then I got a crazy idea: it would be nice to add a few sample products ... and the webinar material started to swell.
The virtual appliances section was easy: it describes a sample VM appliance (vShield Edge) and interesting scale-out architecture (Embrane Helios). There are numerous other VM-based firewall appliances out there, but I didn't want to turn the webinar into a Virtual Appliance Marketplace buyer's guide.
VM NIC firewalls section was the hardest one: it started as a description of vShield App and Juniper's Virtual Gateway, and then I decided to include products offering packet filters and added Nexus 1000V.
However, VMware is not the only hypervisor worth considering any more – virtual switch in Hyper-V 3.0 is fully extensible and Cisco, NEC and 5nine already have security-related extensions-
Finally, there's Linux and Open vSwitch – XenServer includes a simple OpenFlow controller, and VMware/Nicira NVP and Midokura MidoNet have numerous security features including statefulish firewalls.
The service insertion section is still slim: there's Cisco's VSG and HP's Tipping Point, and Cisco is the only company I'm aware of that does service chaining in a shipping product.
Interested? Register for the webinar; it's also included in the yearly subscription.
Have I missed something? Please write a comment.