The last week has been "interesting" – I created the draft slide deck for the Data Center Fabric Architectures webinar on November 16th (register here) and sent the relevant slides to all vendors mentioned in the presentation to give them a chance to fix my errors – every vendor got at least the scorecard describing my understanding of their solution.
FYI, here's the definition of the scorecard I'm using to describe the features of individual solutions: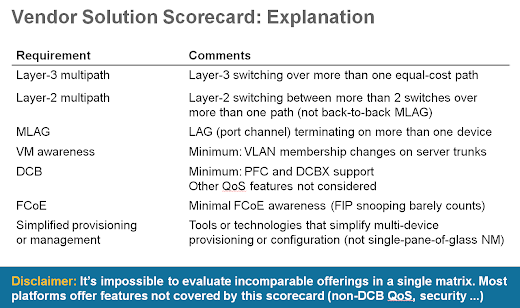 Some of the vendors replied "you've got it almost right" (even though the results weren't always flattering), some pointed out my errors ... and some engaged in interesting image polishing exercises, trying to persuade me to change my wording to better suit their marketing message. As expected, that didn't work (but I did fix every single error or omission I made).
On another front, quite a few of the vendors tried to sell me futures along the lines of "we're Industry First Vendor with XXX" ... with a slight gotcha – the feature XXX is not mentioned in their documentation at all. The reply was always the same: "once you start shipping it and document it in your public documentation, let me know and I'll blog about it and fix the slides," but as the "focus on futures" approach seems to be a popular pastime, I also decided to add Vendor claims bar at the bottom of the scorecards. That bar documents what they claim they have or will have, and you'll be able to judge in a few months' time what the gap between promises and deliverables is.
All together, the webinar touches on data center solutions from nine different vendors (in alphabetical order): Alcatel Lucent, Arista Networks, Avaya, Brocade, Cisco, Force10 Networks, HP, Juniper and NEC, and describes fourteen different solutions grouped into five different major architectures ... all for $49.99. I don't think you'll ever get such a deal from Gartner & Co ;)